COMMERCIAL ROOFING SPECIALIST SERVING NEW JERSEY & NEW YORK
PFISTER ROOFING IS PROUD TO CELEBRATE OUR 40TH YEAR IN BUSINESS!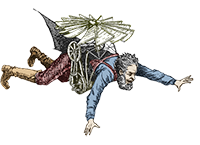 "Somewhere out there are
all kinds of Pfister roofs!"
FREE ROOF INSPECTION & QUOTE
 INDUSTRIAL & COMMERCIAL ROOFING CONTRACTOR SERVING THE TRI-STATE AREA
YOUR ROOF IS A MAJOR INVESTMENT, LET PFISTER HELP YOU TAKE CARE OF IT!
Pfister Roofing is a full-service, licensed commercial roofing company based in Paterson, New Jersey. We serve the New Jersey, New York, Pennsylvania tri-state area and we specialize in installing and maintaining the most suitable roof for your industrial or commercial building. Our expertise is even extended to historical roof restorations & historical roof repairs. Your roof is a substantial investment and should be engineered, designed, installed and protected by trained, experienced commercial roofing professionals. With over 30 years of experience, Pfister Roofing stands apart from other roofing companies due to our skilled workmanship, fair business practices, superior customer service and professional project management.
40 Year Anniversary Special!
We are offering a free Preventive Maintenance Inspection to all current and new customers. If this program reveals damage to your property, we will bring pictorial evidence right to your desk, along with the cost of any repairs that are needed. The Preventive Maintenance Inspection is free and we urge everyone to make use of it because, even more importantly, it will extend the life of your roof. Contact our office for further information.
Why work with Pfister? 
Family-owned & operated for over 37 years
Bonded & Insured up to 5 million dollars
TWIC Cardholder
ISN Safety Certified
Can provide Odor Free roofing systems – Thermoplastic materials – low VOC
Internal Protection Work
NJ Dept of Building & Construction Approved Licenses #13VHO1376600 contract certification #0082830 Including Restoration of Historic Sites
As one of the premier roofing contractors in New Jersey, our reputation for quality workmanship speaks for itself. Pfister Roofing has received numerous awards for our commitment to expert commercial roofing installation.  Tell us what Pfister can do for you!
PFISTER ROOFING SERVICES
DESIGN, INSTALLATION, REPAIR & MAINTENANCE
(CLICK BELOW TO LEARN MORE)

Our staff is always there when you need us.
"At Pfister Roofing, trust, quality workmanship, and standing behind what we install is still the motto year after year. We are there when you need us" 
Dieter Pfisterer CEO
Ready For Your Free Roof Inspection and Estimate?
Set up a free roofing inspection today and we will send one of our veteran commercial roofing specialst to provide you with a free drone inspection and quote for your commercial, slate or historic roof. Your roof is an investment, we will help you take care of it.
PFISTER ROOFING WORKS WITH ALL THE TOP MANUFACTURERS
Pfister commercial roofing company works with most commercial roofing manufacturers and materials.  In most cases, Pfister Roofing holds an Elite or Masters status for our level of expertise in commercial roof design and installation. No matter what the project, Pfister will get the job done right, the first time!
NEED TO SPEAK TO SOMEONE ABOUT YOUR COMMERCIAL ROOFING NEEDS? 
OUR TEAM IS READY TO HELP!
Your company did an outstanding job for our community at Bellaire and we are most appreciative. It was a pleasure to work with you and your professional approach to our unique project played a huge part in the successful result.
The Okonite Company has worked with Pfister Roofing for several years. The workmanship and service have always been excellent. We look forward to working with Pfister Roofing as the need arises.
Pfister Roofing installed a 210,000 sq. ft. roof on Dia Beacon located in New York's Hudson Valley approximately 20 years ago. The roof membrane has held up
very well over the years and has been leak-free.
I have worked with Dieter & his company Pfister Roofing. I find him & his men extremely helpful in the roofing field and I was very satisfied with their work. Pfister Roofing pays close attention to details and is an organization I would highly recommend.
Commercial Roofing Specialists



Serving NJ, NY & PA Since 1982