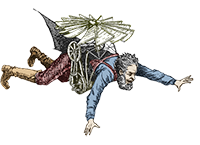 "Somewhere out there are
all kinds of Pfister roofs!"
FREE ROOF INSPECTION & QUOTE
Frequently Asked Questions
Warranties / Emergencies
1. What should I do in the case of an emergency leak?
On a built-up roof, a can of flashing cement will do wonders. On a single ply roof system duct tape and urethane caulk may close off a hole. For all emergencies, it is best to contact Pfister Roofing's Emergency Hotline at 1-800-367-2207 to keep damage and repairs minimal.
2. If a manufacturer warranties my roof can I make my own repairs or have my HVAC contractor flash a unit?
No! For the entire length of the warranty the manufacturer is responsible to keep the roof watertight. Call Pfister Roofing at 1-800-367-2207 for repairs or modifications to equip rooftop equipment.
3. How can I protect the roof from other trades and foot traffic?
By installing protection mats or a concrete paver system for high traffic areas (chillers, ventilation, cleaners etc). Call Pfister Roofing at 1-800-367-2207 to install protective pathways for rooftop foot traffic.
4. What is the best roofing warranty?
A warranty issued by a manufacturer who has the roofing experience to match the longevity of the warranty. All Pfister Roofing manufacturers have recognized experience and an excellent reputation in the roofing industry. Pfister Roofing is a certified contractor for numerous manufacturers and offers a full manufacturers warranty on all our products.
5. How many years is a typical manufacturer's' guarantee?
The minimum is 10 to 15 years and in some cases up to 20. Pfister Roofing has some roofing systems that are guaranteed for 25 years. Ask us about the best product to suit your roof.
Hiring a Roofing Contractor
6. What do I look for in a quality-roofing contractor?
(1) Confirm that the roofer has years of uninterrupted service under the same trade name, (2) Visit the office and yard to see the equipment and personnel, (3) Ask for a list of corporate referrals, and (4) Ask for a list of manufacturers and qualifications for installation.
7. Can I request an insurance certificate from the roofing contractor?
Yes! Make sure that you are listed as the insured and receive the insurance certificate directly from the insurance company. Pfister Roofing is bonded and fully insured to protect you from any liability during the installation and/or repair process.
8. How should I pay the contractor?
After installation, you should pay for the work completed (as quoted) less 10%. The final payment of 10% is due at walk-thru and inspection by manufacturer/consultant/architect and issuance of guarantee.
9. What kind of insurance certificate must a roofer carry?
Liability, Workman's Comp, and Automobile Insurance. For liability insurance, check for the effective date and ask for a minimum of $2 Million in coverage. Pfister Roofing is properly bonded and insured up to $5 million.
10. What is the definition of a workman's compensation modified rate? Is it important?
The modification rate is based upon the amount of accidents the roofing contractor has been involved in. A modification rate of 1 is average, less than 1 i.e. 0.70 is excellent, more than 1 is questionable.
11. How do I get a cost effective estimate?
Write a specification detailing everything you want included in your roof system. Ask your contractors to bid on these specifications and for alternative proposals. Once you have had a chance to review the base bids well as alternatives it will become clear which contractor understands your roof, your budget and your requirements. Some contractors can write a specification for you if he understands what you are looking for – like Pfister.
12. Should roofing contractors be bonded?
Yes. However bonding is not needed for small re-roofing projects provided that you can verify the credentials of the roofing contractor. If this is not possible request that a performance bond be issued/mailed directly to you.
13. What are building code requirements?
Always make sure the roofing contractor gets a building permit from the local building department. Make sure that your contract stipulates that all work will be performed according to all local and state fire codes. Pfister Roofing always takes care of this as part of our contract.
14. What are re-roofing costs without tear off?
Depending on complexity and the type of roofing material, the cost to re-roof can range from $3 – $7 per square foot.
15. What are re-roofing costs with a tear off?
Add $2- $3 per square foot.
16. How often should a roof be inspected for deficiencies?
New and old roofs should be inspected bi-annually for deficiencies, once in the spring and once before the winter. This will assist in eliminating deficiencies and assure all drains are free of debris. Pfister Roofing offers preventive maintenance services.
17. What is the best drainage system that I can design?
Interior drains (scuppers) are always better than exterior because interior drains can be heated and not subject to freeze-ups during the winter. Pfister Roofing's in-house sheet metal shop can design and install scuppers that best fit your roof.
18. Are roof scuppers an effective way to drain a roof?
Roof scuppers are very effective if the roof has sufficient pitch to bring the water to the scuppers, if the scuppers are properly sized and if the scuppers have overflow provisions.
19. Can a roof collapse if drains are clogged?
If the roof has a parapet wall that extends above the roofline where the water cannot escape over the gravel stop (i.e. metal edging), the water can put additional weight and pressure on a roof forcing it to deteriorate or collapse. Check your drains bi-annually (minimum) to prevent clogs from damaging your roof. Pfister Roofing offers preventive maintenance services.
20. Are pitched roofs better than flat?
Yes, but a flat roof may be effective for your particular building if the proper roof system and materials has been chosen. A preventive maintenance program will reduce drainage problems inherent in flat roofs.
21. Should roof exits be in or outside?
Access through an interior roof hatch is always preferred over the use of ladders from the outside.
22. Are skylights an effective way of bringing in daylight?
Yes, providing the skylights are properly placed and protected from the outside so that no one can fall through them. Pfister Roofing is experienced with roofs that include skylights to ensure that no leakage at the point of contact occurs. Regular preventive maintenance is necessary to maintain the integrity of the seal. Daylighting is a specialized type of skylighting that maximizes natural light while reducing lighting and air conditioning costs.
23. Are light color or white roofs better than black?
Light or white colored roofs are usually 20-30 degrees cooler which in turn reduces the stress of expansion and contraction. In many cases this can lengthen the life expectancy of the roof surface.
24. What is the most cost effective roof system?
A single-ply modified bitumen membrane applied over one layer of base sheet. A single-ply membrane is usually manufactured in a controlled environment with a minimal thickness of 45 – 80 MIL. A single-ply system is installed in a single layer format unlike a typical "built up roof", which is comprised of three layers embedded in tar.
25. How many different single-ply membranes are on the market?
There are four different single-ply systems on the market: PVC, TPO (both considered to be a plastic type membrane), EPDM (a rubberized material), and modified bitumen material consisting of asphalt and polyester reinforcing scrim.
26. Why is there a trend to more single-ply systems?
Single-ply systems are manufactured in a controlled environment. This increases the quality and life expectancy of the roof and eliminates the production phase of creating the roof on-site.
27. Which roofing system is the longest lasting?
A 60 -MIL plus membrane system developed by several manufacturers.
28. Is the Asphalt Built-Up Roofing (BUR) system still a viable option?
The answer is yes provided that a qualified roofing crew follows all manufacturers' step-by-step directions during the installation process.
29. How much ridged insulation should I have on my roof?
Minimum of 12.5 R-value up to 25 -30 R-value. Check with your Building Department.
30. Over how many roofs can I install another layer of roofing material?
No more than two roof systems before a tear-off is required.
31. Which roof provides the greatest fire protection?
Ballasted roofs using 3/4 to 1-1/2" Washed riverbed gravel and/or PVC roof systems, which have some of the best fire ratings on the market.
32. What is the typical live load of a roof in the northeast?
33. Can I re-roof effectively over my existing roof surface?
Yes, in most cases a structural engineer may be required if the weight of the roof exceeds certain limits and the old roof is free of moisture.
34. What is the life expectancy of a metal roof?
In most cases 50 years if properly maintained. A Pfister Roofing maintenance program will keep the roofer away!
35. When is it time to stop repairs and install a new roof?
When the cost of repairs climbs higher and higher, the frequency of tenant complaints become unbearable and there is damage to the interior and building structure i.e. deck.
36. What can be done to lengthen the life expectancy of my roof?
Routine maintenance and the application of reflective coatings. Pfister Roofing offers preventive maintenance services.
37. Can I roof over wet insulation?
Never roof over wet insulation. Areas of wet insulation can be found using infrared technology eliminating the unnecessary cost of removing the entire roof surface. Pfister Roofing offers infrared scanning to detect wet insulation and leaky roofs.
38. Is ponding water on my roof OK?
With some roofing systems ponding water is acceptable. However, for most roofs ponding water can lead to problems, therefore, buyer beware and check with the roofing manufacturer.
Can't Find Your Answer?
At Pfister Maintenance we take our customer service very seriously. We are continually reviewing ways in which to ask our customers what they think of our service and what we could do to make things even better. Using this feedback we have made many service improvements and will continue to do so.
As part of our commitment, we would like to hear from you if you have any suggestions or feedback on our service or a particular member of staff who has provided you with excellent service. You can send us your feedback online by pressing the button below.
Your company did an outstanding job for our community at Bellaire and we are most appreciative. It was a pleasure to work with you and your professional approach to our unique project played a huge part in the successful result.
The Okonite Company has worked with Pfister Roofing for several years. The workmanship and service have always been excellent. We look forward to working with Pfister Roofing as the need arises.
I have worked with Dieter & his company Pfister Roofing. I find him & his men extremely helpful in the roofing field and I was very satisfied with their work. Pfister Roofing pays close attention to details and is an organization I would highly recommend.