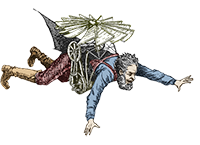 "Somewhere out there are
all kinds of Pfister roofs!"
FREE ROOF INSPECTION & QUOTE
A Family Tradition of Quality Since 1889
In the 19th Century, the Pfisterer family-owned and operated business prospered by adhering to the authority of good business practices.
Good practices continue to serve us well in the 21st Century as Pfister Roofing's list of satisfied customers grows. Today, we offer an array of traditional and cutting-edge roofing services, knowledgeable company-trained technicians, guidance in selecting the best materials for needs and budget, and, above all, dependable, prompt service second to none.
Mission Statement
The Pfister companies are solution providers, offering customers premium roofing systems and a variety of innovative alternative energy technologies, customized to meet their needs. At Pfister, exceeding expectations is our primary objective. The company values relationships and is genuine in its dealings with employees, clients, vendors, and partners. Pfister strives to seek only high -quality and environmentally friendly materials at. competitive prices, to ensure long-term performance and the greatest return on investment.
Pfister People
Our reputation for providing innovative solutions to the most challenging jobs, the courteous on-site conduct of our roofers and their thoroughness of end-of-job clean up has earned us many compliments of a "job well done." In fact, all Pfister Roofing technicians wear a photo ID, pass detailed background checks, and complete thorough, supervised training to ensure high quality service and customer security. Meet Our Team →
Our Philosophy
Building It Right …the First Time
As a company, we are craftsmen and engineers, skilled in the application of common and uncommon roofing materials. We specialize in all single-ply systems, coatings, slate, tile, copper, steel and aluminum roofing systems just to name a few. Located in northern New Jersey, we are centrally located for roofing projects in NY, NJ & PA.
Added Protection
We provide immediate emergency repairs to our customers and our Preventive Maintenance Programs extend the life expectancy of your roof and maintenance dollars. Unlike many roofing companies, Pfister Roofing is properly insured (fully bonded and insured in NY, NJ and PA up to $5 million AND licensed with the NJ Department of Building and Construction).
Your Partner
Pfister Roofing's projects for commercial and industrial properties often include sheet metal/water removal systems, renewable energy opportunities, warranty management, historical restoration, high-rises and properties, skylights, HVAC equipment, and difficult access.
Our History
The history of Pfister Roofing encompasses more than a century of quality service in roofing craftsmanship, two continents, and four generations of Pfisterer family management.
Ernst Pfisterer founded Pfister Roofing in Europe in 1889. A short five years later, Ernst received the gold medal for excellence in roofing craftsmanship. Management eventually passed to his son Herman. Dieter Pfisterer, the third generation in the roofing business, brought roofing craftsmanship to the United States.
Dieter began his apprenticeship in roofing, sheet metal and plumbing in 1953 while pursuing an engineering degree at night. Upon graduation as a master craftsman in roofing, Dieter emigrated to the United States to enhance his roofing knowledge.
While in the United States Dieter managed two mechanical contracting businesses and then became the maintenance engineer for a major pharmaceutical company. Subsequently, he joined a German roofing manufacturer, first as technical manager and finally, as national sales manager.
Combining his training, his practical experience in the roofing business, and the need in the US for roof restoration at historic sites and in the commercial sector, Dieter knew that the tradition of quality workmanship that began with his grandfather was needed in the United States.
In the 1980′s when Dieter acquired Koehler Roofing and Schmidt Roofing, Pfister Industries, USA, was born. Pfister Industries ultimately became Pfister Maintenance, Inc.
The experienced team, still led by Mr. Pfisterer, runs a full-service roofing company, which specializes in roof analysis, infrared moisture surveys, consultation, preventive maintenance programs, and the installation of single-ply and asphaltic roofing systems as well as metal and tile roofs. The Pfister name with 30 years in business and reputation remains among the finest in the industry.
Today, the tradition continues. Dieter's son, Wayne, is actively involved in the Pfister Family of companies promoting renewable technologies that complement the roofing business.
Organizations
Pfister Roofing (Pfister Maintenance, Inc.) is a proud member of the following organizations:
Your company did an outstanding job for our community at Bellaire and we are most appreciative. It was a pleasure to work with you and your professional approach to our unique project played a huge part in the successful result.
The Okonite Company has worked with Pfister Roofing for several years. The workmanship and service have always been excellent. We look forward to working with Pfister Roofing as the need arises.
I have worked with Dieter & his company Pfister Roofing. I find him & his men extremely helpful in the roofing field and I was very satisfied with their work. Pfister Roofing pays close attention to details and is an organization I would highly recommend.
NEED TO SPEAK TO SOMEONE ABOUT YOUR COMMERCIAL ROOFING NEEDS? 
OUR TEAM IS READY TO HELP!