COMMERCIAL ROOFING SPECIALIST SERVING NEW JERSEY & NEW YORK FOR 37 YEARS!
 "Pfister Roofing has been in business for 37 years, co started in Germany by Dieter's grandfather."
"Our company has never been sued or never defaulted in any job credit line and/or payment as well as payroll." 
"Pfister Roofing gets the job delivered on time, watertight, the first time"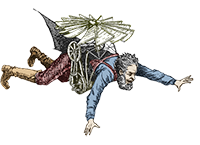 "Somewhere out there are
all kinds of Pfister roofs!"
FREE ROOF INSPECTION & QUOTE
Commercial Roof Installation, Repairs, Maintenance and More in New Jersey, New York & Pennsylvania
At Pfister Roofing, our commercial roofing contractors are committed to bringing our clients the industry's best in comprehensive commercial roofing services. We are an approved and certified contractor for a wide range of commercial roofing materials offered by the finest manufacturers of roofing products. We are so confident in the commercial roofing solutions we provide that we carry a full manufacturer's warranty for every roof installed and have been recognized as a top roofer in America for over 35 years based on our quality and service.
Nationally Recognized
Pfister Roofing is a nationally recognized local roofing contractor based out of Paterson New Jersey who has been successfully serving the tri-state area for 37 years. We provide full-service capability for many of the major roofing material manufacturers in the industry and in many cases have achieved elite status. Being an Approved and/or Elite contractor for most major material manufacturers gives us the authorization to provide warranty services to clients for their new and existing warranted roof systems.
Roofing System Agnostic
 Pfister Roofing applies a wide variety of different roofing systems and is not "married" to one material manufacturer or particular roof system. Diversity enables Pfister Roofing the ability to specifically design and install the proper roof system to meet your specific building needs. Many roofing contractors propose and install the same system for every project because they do not have the expertise to install any other products or commercial roofing solutions.
Full Roof System Warranty
Pfister Roofing offers our clients a full system warranty which includes labor, materials, and workmanship from both the material manufacturer and Pfister Roofing. We want to make sure your roofing solution lasts. Our clients only need to make one phone call to Pfister Roofing for all their roofing needs. Another advantage is that we also do provide the financial backing and strength of the material manufacturer to protect our client's long-term investment.
Roof Maintenance Programs
Pfister roofing can design a Planned Preventive roof Maintenance Program for clients whom are not capable or in a financial position to re-roof their entire building or complex. A Preventive Maintenance Program will help you increase the life cycle of your existing roofs and successfully prepare a strategic Roof Plan to re-roof your building or complex over a period of time. Our program is based on prioritizing and managing your specific roofing needs based on area, roof condition, and budget.
Safety Is A Top Priority
Pfister Roofing has a proven track record of installing high profile; safety sensitive projects for 37 years and the earned respect in the industry as well as with local businesses as a premier roofing contractor. We follow strict OSHA guidelines and have a process in place to provide Site Specific Safety Programs. Our expertise is re-roofing occupied business without causing any inconvenience to our client's daily operations. A Safety Resume, Certificate of Insurance, and material Safety Data Specifications (MSDS) and any other pertinent information will be provided at our Pre-Construction Meeting prior to job start.
Elite & Masters Manufacturers Status
Pfister Roofing is monitored and follows a strict material manufacturer specification which ensures that your roof system is properly installed which protects you from any short cuts or improper roofing practices. Upon job completion, the material manufacturer assigns a representative to inspect our roof to ensure the materials were properly installed according to their specifications. Once approved, you are issued a material manufacturers' warranty. The material manufacturers' representative also rates our workmanship. In order to maintain our elite contractor status, we need to meet a high level of performance. Elite status is earned by continuously performing on a high level day and out.
Installations, Restorations, and Repairs
With over three decades of experience working on a wide range of structures across New Jersey and New York, our commercial roofing team has gained the experience and expertise necessary to handle a wide range of roofing projects. Not only do we provide all-new roofing installations for all types of commercial structures — we also specialize in repairs and historic roof restoration for building across the region. No matter what your roofing needs are, our team at Pfister Roofing has the experience and resources you can count on to get the job done right. For all of the roofing categories listed below, we proudly offer:
Warranty Roof Repairs | Emergency Roof Repairs | Roofing Retrofits (new and retrofit) | New Installations | Custom-Engineered Roofing Systems | Design custom roofs | Metal roofs all kinds
Roofing Materials
From slate and cedar to metal and solar roofing, our commercial roofing professionals proudly work with a wide range of roofing materials, allowing us to handle a diverse selection of roofing projects. Our roofing materials include:
 PVC (Single-ply) • EPDM (Single-ply) • TPO (Single-ply) • Bitumen • Flat – Other • Rubberized Coating • Reflective Coating • Cedar • Tile • Metal • Slate • Solar Integrated • Green Roofing • Solar
ROOFING AND BUILDING TYPES
Our 35 years of commercial roofing experience has given us the expertise necessary to successfully serve a wide range of structures. From all-new builds to historic roof restorations, we do it all. Below is a comprehensive list of the types of roofing projects we handle.
Industrial • Commercial • Institutional • Church/Religious • Steeples • Pharmaceutical • Medical • Healthcare Facility • Historic Restoration • Retail Stores • Food Processing • Manufacturing • Chemical • Strip Malls • High Rise • Residential (Tile/Metal/Slate)
"At Pfister Roofing, trust, quality workmanship, and standing behind what we install is still the motto year after year. We are there when you need us" 
Dieter Pfisterer CEO
NEED TO SPEAK TO SOMEONE ABOUT YOUR COMMERCIAL ROOFING NEEDS? 
OUR TEAM IS READY TO HELP!
Your company did an outstanding job for our community at Bellaire and we are most appreciative. It was a pleasure to work with you and your professional approach to our unique project played a huge part in the successful result.
The Okonite Company has worked with Pfister Roofing for several years. The workmanship and service have always been excellent. We look forward to working with Pfister Roofing as the need arises.
Pfister Roofing installed a 210,000 sq. ft. roof on Dia Beacon located in New York's Hudson Valley approximately 20 years ago. The roof membrane has held up
very well over the years and has been leak-free.
I have worked with Dieter & his company Pfister Roofing. I find him & his men extremely helpful in the roofing field and I was very satisfied with their work. Pfister Roofing pays close attention to details and is an organization I would highly recommend.