THE HISTORY OF PFISTER ROOFING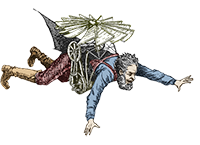 "Somewhere out there are
all kinds of Pfister roofs!"
FREE ROOF INSPECTION & QUOTE
Pfister Roofing 40 years in the USA with a history that began in 1889 in Germany
Pfister Roofing was founded in Germany by Dieter Pfisterer's grandfather in 1889. He managed the business for 20 years and Hermann Pfisterer, his son, continued until Dieter Pfisterer joined as an apprentice learning the skills of roofing. In 1953 Dieter emigrated to the US where he became a technical manager for a German company, called Brass, which was manufacturing PVC roofing products, and in 1986 founded Pfister Roofing bringing with him the old school teachings and training, which were handed down to him by his grandfather, Hermann.
We ask that you join a Pfister Roofing family and become a member of its exclusive club where the roofing is our main line of products that we sell and install. We also offer 24/7 customer service.
PFISTER ROOFING WORKS WITH ALL THE TOP MANUFACTURERS
Pfister commercial roofing company works with most commercial roofing manufacturers and materials.  In most cases, Pfister Roofing holds an Elite or Masters status for our level of expertise in commercial roof design and installation. No matter what the project, Pfister will get the job done right, the first time!
NEED TO SPEAK TO SOMEONE ABOUT YOUR COMMERCIAL ROOFING NEEDS? 
OUR TEAM IS READY TO HELP!
Your company did an outstanding job for our community at Bellaire and we are most appreciative. It was a pleasure to work with you and your professional approach to our unique project played a huge part in the successful result.
The Okonite Company has worked with Pfister Roofing for several years. The workmanship and service have always been excellent. We look forward to working with Pfister Roofing as the need arises.
Pfister Roofing installed a 210,000 sq. ft. roof on Dia Beacon located in New York's Hudson Valley approximately 20 years ago. The roof membrane has held up
very well over the years and has been leak-free.
I have worked with Dieter & his company Pfister Roofing. I find him & his men extremely helpful in the roofing field and I was very satisfied with their work. Pfister Roofing pays close attention to details and is an organization I would highly recommend.
Commercial Roofing Specialists



Serving NJ, NY & PA Since 1982