COMMERCIAL ROOFING SPECIALIST SERVING NEW JERSEY & NEW YORK FOR 37 YEARS!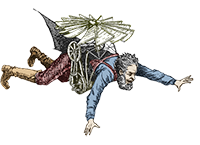 "Somewhere out there are
all kinds of Pfister roofs!"
FREE ROOF INSPECTION & QUOTE
When it comes to commercial roofing, there shouldn't be a one-size-fits -all approach. Much like your company, you can't just accept what everyone else does and go with it. Your business is adapted for what you and your customers expect. With that in mind, the material used for a commercial roof installation should fit your needs and requirements.
Single Ply Roofing
Commercial roofing membranes made from a compound synthetic material are often categorized as single ply. They are very strong, flexible, and easy to install, and are extremely durable. As a result, they have become a popular item for commercial roofs. The material is thick and has a 30 plus year lifespan. This single ply membrane is divided into three classes: thermosets, thermoplastics, and modified bitumens.
Thermosets: This material is made from a rubber polymer, with Ethylene Propylene Diene Monomer (EPDM) being the most popular. EPDM is also known as rubber roofing. This material is proven to withstand sunlight and common chemicals ordinarily found on commercial roofs. Its versatility allows the commercial roof installation to be adhered, fastened, or even loosely laid down on the roof. Its usefulness is why EPDM roof installation is a popular choice.
Thermoplastics: This membrane is plastic based, with Polyvinyl Chloride (PVC) the most commonly used material. They are identified as needing heat or chemical welding to ensure a proper fit. PVC is customarily made to include a protectant layer, usually fiberglass, to increase the strength.
Modified Bitumens: This hybrid roofing membrane combines high tech formulation with traditional techniques used in what is known as "built-up roofing." The term built-up roofing goes back over 100 years to the old tar and gravel roofs. They are comprised of layers of asphalt, with a rubber mix to increase flexibility.
All of these materials are effective, but there are certain aspects to consider such as price and the type of building. Therefore, we recommend getting a commercial roof inspection to determine which single ply roofing material is the best fit.
Elastomeric Coatings
This is a popular item to extend the length of any commercial roof. It was created in the 1970s as a response to changing temperatures compromising the integrity of commercial roofs. In summer months the roofing material swells, and it shrinks in the winter months. Excessive expanding and contracting of a commercial roof shortens its lifespan because of the constant wear and tear which is mostly in built-up roofing. Elastomeric coatings adapt to the weather to prevent the formation of cracks.
Slate and Tile
Slate roof installation is usually reserved for upscale homes because of its natural beauty and distinctive appearance. Not only that, but the slate is very fire resistant and does not rot, though it can break. Due to this, the lifespan of this type of roof is very long: usually around 50 plus years. The downside to slate is its cost and weight. Slate has a half-century or more life span, so it is typically more expensive. It is also the heaviest type of roofing. After a slate roof is installed, it complicates gutter cleaning, and maintenance is required more often by specialists. The roof structure must be designed to be structurally sound up to 10 lbs. of weight per square foot.
Another popular option is to go with ceramic roofing tiles, which also offer durability and fire resistance. They are high quality and typically last 50 to 70 years. The downside to ceramic tiles is they are weather-dependent according to geographic location. Ceramic roofing tiles are not suitable for areas with fluctuating weather patterns, and they are fragile. High winds can damage them, and they are so fragile even walking on them can cause some damage.
Regardless of the type of roofing material you select, there are pros and cons to all of them. Your best bet, when you receive a roof inspection, is to ask the contractor what he would recommend based on your house's location and climate.
NEED TO SPEAK TO SOMEONE ABOUT YOUR FLAT ROOFING NEEDS? 
OUR TEAM IS READY TO HELP!
PFISTER ROOFING WORKS WITH ALL THE TOP MANUFACTURERS
Pfister commercial roofing company works with most commercial roofing manufacturers and materials.  In most cases, Pfister Roofing holds an Elite or Masters status for our level of expertise in commercial roof repair. No matter what the project, Pfister will get the job done right, the first time!
Why Choose Pfister For Your Commercial Roofing Needs?
Whether you are looking to begin an all-new commercial roof installation project or would simply like the roof on your business inspected, our roofing contractors at Pfister Roofing are an excellent choice for the job. Below are several reasons why you should consider us for your commercial roofing repair needs.


 

 

Specialists in the retrofitting of existing buildings for more than 35 years
Pharmaceutical, Manufacturing, Chemical Plants, Food Processing, High Rises and other sensitive work environments
Listed with the State of New Jersey Department of the Treasury Division of Property Management and Construction and The New Jersey Schools Development Authority. We are also listed with the New Jersey Department of Building & Construction Approved
Licenses # 13VH01376600 Contractor Certification # 0082830 Including Restoration of Historical Sites

Fully insured and bonded to 5 million. We offer consultation design build and project management
Infrared Moisture Scans availableAll estimates and proposals include picture documentation complete with a detailed scope of work and roof evaluationMembers of the National Roofing Contractors Association, North East Roofing Contractors Association, International Safety Network (ISN)
8 Steps To Take Before Choosing A Commercial Roof Repair Contractor
Find roofing contractors that are associated with the NRCA (National Roofing Contractors Association)

 Seek out contractors that have been in business 20 years or more.  Visit their offices and yards to determine who they are

Get references of completed jobs that are at least the same size as the one in question to be restored or replaced

Call and ask questions of the owner and ask how satisfied he was with the contractor

Get at least 2 quotations and examine them thoroughly. Ask questions regarding the differences in those quotes

View their insurance certificate.  Insist on a $2 million dollar liability coverage and be sure the coverage is current. One call to the insurance company can save you a great deal of problems and money

Call the materials manufacturer stated in their proposal and ask if they have agreed to the roofing spec developed by your contractor. Ask if they are licenced with the manufacturer and find out what the manufacturer thinks of the roofing contractor

Ask the workman's comp modification rate, which should have a rating of 1 or less.  This will help you understand how safely the contractor is working. If the rate is way above 1, it means an unsafe contractor and you would not want them working on your roof
If you follow all of the above and get answers to your necessary questions, you should be able to define in the end what you are looking for. If you have any questions about the commercial roofing process, please feel free to contact Pfister Roofing at 800-367-2207. We will be more than happy to help you.
Your company did an outstanding job for our community at Bellaire and we are most appreciative. It was a pleasure to work with you and your professional approach to our unique project played a huge part in the successful result.
The Okonite Company has worked with Pfister Roofing for several years. The workmanship and service have always been excellent. We look forward to working with Pfister Roofing as the need arises.
I have worked with Dieter & his company Pfister Roofing. I find him & his men extremely helpful in the roofing field and I was very satisfied with their work. Pfister Roofing pays close attention to details and is an organization I would highly recommend.
Commercial Roofing Specialists


Serving NJ, NY & PA Since 1982 Call Us Today: 

1.800.367.2207